Manchester United fell to fifth in the Premier League after tasting defeat against Arsenal at the Emirates with goals from Granit Xhaka and Pierre-Emerick Aubameyang
Unai Emery's side started the better team and dominated proceedings but almost fell behind early on when Romelu Lukaku saw his close range effort cannon off the crossbar.
Arsenal continued with their strong possession play and soon took the lead when Xhaka unleashed an effort from 25-yards which swerved late and flew past David de Gea in the United goal.
Ole Gunnar Solskjaer's side battled for a way back into the match and almost drew level when Fred's speculative effort hit the post and went wide for a corner. Lukaku has had a few good opportunities to score but was denied twice by keeper Bernd Leno, before Aubameyang dispatched a penalty after a foul by Fred in the box.
Scroll down to see how all of the action unfolded from the Emirates.
KEY EVENTS
18:45
Souness blaming United's midfield
Graeme Souness, who's a pundit on Sky this afternoon, is blaming United's midfield for the defeat: "Arsenal started well and grabbed the initiative. United huffed and puffed for most of the game. It wasn't the United in recent weeks and the biggest reason was that the midfield was off the pace. Fred, Matic, Pogba couldn't get near them."
18:35
Solskjaer went over to applaud the fans
They always put in a good shift.
Samuel Luckhurst✔@samuelluckhurst
Solskjaer went over to applaud United fans at full-time. Bad result that is all the more galling given #mufc were better than Arsenal for most of it. Impossible to say what long-term ramifications will be at this stage but Arsenal don't look like fourth-place mainstays.3929:34 PM – Mar 10, 2019Twitter Ads info and privacy129 people are talking about this18:32
United fans still in good spirits
They were still in fine voice at full time.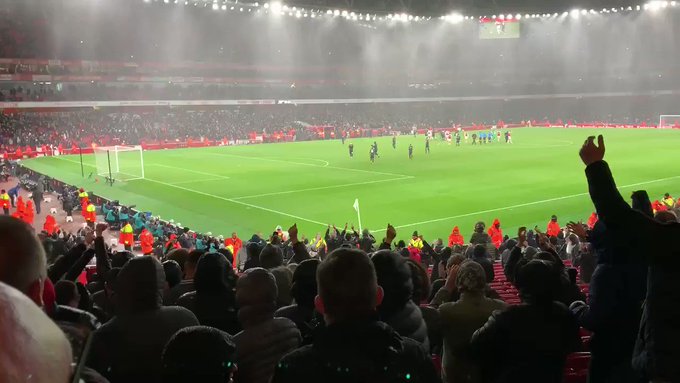 Oles at the wheel. How we never scored atleast 2 I'll never know but you can't win every game! We'll bounce back next week! UTFR!1,3499:31 PM – Mar 10, 2019431 people are talking about thisTwitter Ads info and privacy18:31
United's unbeaten run comes to an end
United couldn't make it 10 rows in a row away from home in all competitions but Solskjaer will have positives to take from that.
They'll rue the chances they missed and the two mistakes which let Arsenal score.
18:27KEY EVENT
Manchester United player ratings vs Arsenal
See how the players rated here.
18:26
Full time
The unbeaten away run comes to an end.View image on Twitter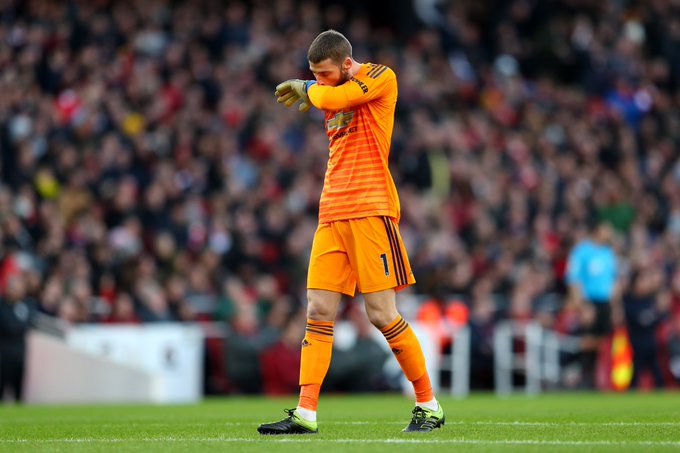 FT Arsenal 2-0 Manchester United

The successive unbeaten run away from home comes to a disappointing end #ARSMUN #mufc289:26 PM – Mar 10, 2019See Man United News's other TweetsTwitter Ads info and privacy18:22
91 minutes
Ball into the area from Young and it's a free header for Rashford which is collected by Leno.
2-018:21
In to injury time
Five minutes of injury time added on, can United salvage a point? It's not looking likely.
2-018:20
88 minutes
Kolasinac shown a yellow for holding back Greenwood.
2-018:16
85 minutes
Five minutes left of normal time and United still trailing by two. It's not been a terrible performance from United but there has been some sloppy passing at times and they've failed to take their chances.
2-018:10
Change for both sides
Aubameyang – OFF and Suarez – ON
Greenwood is ON for Matic.
18:09
79 minutes
Greenwood about to come on for his Premier League debut.
2-018:08
Attempts watch
Arsenal -14
United – 13
But we're lacking on efforts on target.
2-018:08
76 minutes
Martial with a ball in to the area from the left, Lukaku's header is wide of the post. Goal kick.
2-018:06
75 minutes – booking for Pogba
Pogba now shown a yellow for bringing down Xhaka.
2-018:04
Pitch invader after Arsenal's goal
Unacceptable.
Fan on pitch after Auba penalty, shoves Smalling and runs to join Arsenal celebrations. Not a good day for the stewards after Grealish incident.2719:03 PM – Mar 10, 2019Twitter Ads info and privacy99 people are talking about this18:03
72 minutes – booking
Nemanja Matic has been shown a yellow card.
2-018:02
70 minutes
A great chance for Lacazette after Lindelof misjudges the bounces of the ball to give the Arsenal attacker a sight of goal but he drags his shot wide. 2
2-018:01
Change for United -69 minutes
Martial has come on for Dalot and United have switched to a 4-3-3.
17:59KEY EVENT
68 minutes – Goal Aubameyang
Aubameyang scores from the spot to double Arsenal's lead.
2-017:58
67 minutes – Penalty to Arsenal
Lacazette goes down after a touch from Fred and it's a penalty to the home side.
1-017:58
66 minutes
United still pushing forward and it's another good tackle, this time to deny Fred. United just need to be careful at the back, though, as Arsenal are very quick on the counter.
1-017:56TYRONE MARSHALL
United should be cautious about making a change at the minute
McTominay, Martial and Greenwood warming up for United but I'm not sure this needs a change at the moment. United have been dominant since half-time and despite being behind they're playing well. Perhaps you could introduce Martial out wide but this system is working for now, with Rashford and Lukaku heavily involved centrally.
17:55
64 minutes
Lovely ball through from Pogba to Rashford who is denied by Leno.
United have had 63% possession but yet to find a breakthrough.
1-017:54
63 minutes
Shaw denied in the area by a very good challenge from Maitland-Niles.
1-017:53
More subs out to warm up
It'd be a big game to throw Greenwood in.
Samuel Luckhurst✔@samuelluckhurst
Greenwood and McTominay warming up. #mufc1198:52 PM – Mar 10, 2019Twitter Ads info and privacy27 people are talking about this17:52
61 minutes
Arsenal very quick on the counter and Matic clears Aubameyang's shot.
1-017:49
58 minutes
Rashford takes the free kick and it's wide of the post.
1-017:48
57 minutes
Arsenal happy to put XI men behind the ball and hit United on the counter which is allowing United more of the ball in the second half. Aubameyang has just pushed Pogba over and United have a free kick on the edge of the area.
1-017:47
Good performance from Lukaku
But, he should have had a couple of goals.
Samuel Luckhurst✔@samuelluckhurst
Particular pity for Lukaku he hasn't got a goal because his hold-up play has maybe never been better for #mufc than today.3118:46 PM – Mar 10, 2019Twitter Ads info and privacy79 people are talking about this17:44
53 minutes
Pogba pulling Ramsey to the floor by his head, lucky to avoid a booking.
1-017:41
49 minutes
Fred shoots from the edge of the area and it appeared to hit Koscielny on the hand but the referee waves away the penalty shout, replay shows it was his chest, so the ref was right not to give it.
Ball falls to Rashford who plays it through to Lukaku and it's a good save by Leno to deny him.
1-017:39
48 minutes
United have switched back to a back four and Arsenal have just had a penalty appeal waved away. Rashford tries his luck from outside the area but it's way over the bar.
1-017:38
Solskjaer to bring on Martial?
That didn't take long.17:37
47 minutes
Good ball over the top from Matic to Lukaku but Leno rushes out of his box to clear it.
1-017:36
46 minutes
Good ball in to the area by Dalot towards Rashford at the far post but it's cleared out for a throw.
1-017:36
Second half underway
So, no changes for either side at the break. United are going to have to tighten up at the back and take their chances if they're going to win this.
1-017:34
No half time changes
As you were for United.17:28
Arsenal only had one shot on target
Positives to take, United's tactical tweak worked and if they come out on the front foot they should fancy themselves.17:24
Strange half for United
Arsenal definitely edged it and their threat forced Solskjaer to change his set up, which is credit to Emery. But, despite being second best United have had their chances and hit the woodwork twice. The last 10 minutes of the half were better but they've looked lethargic.
Martial's on the bench and fresh having not played since the PSG first leg last month.
17:20KEY EVENT
Half time ratings
De Gea
Major mistake for the goal and kicking poor. 3
Young
Game but ineffective. 5
Dalot
Not maintained momentum from Paris. 5
Lindelof
Panicky. 4
Smalling
One of the better defenders. 6
Shaw
Big threat in attack. 7
Matic
Well off the pace. 3
Pogba
Not involved enough. 5
Fred
Hit the post. 5
Lukaku
Missed a great chance at 0-0 but decent hold-up play. 6
Rashford
Wasteful. 5
17:17
In to added time
Two minutes have been added on.
1-017:16
43 minutes
Brilliant ball from Pogba, great touch from Lukaku to Dalot who plays it back to Rashford, waiting by the penalty spot and it's a great tackle by Xhaka to deny him, Arsenal had the ball on the counter but the ref's blown after a collision in the area and they're furious.
1-017:13
41 minutes
Corner to United, Young takes and it's headed away by Aubameyang back to Young who loses out to Ramsey and Arsenal have it on the counter.
Offside flag denies them of a good opportunity.
1-017:11
40 minutes
Good link up play between Shaw and Rashford down the left, Lukaku just can't get to Rashford's cross.
1-017:09TYRONE MARSHALL
Solskjaer's adapted United's game because of Arsenal's threat
Unusual to see one team playing with two centre forwards in the Premier League these days, never mind both teams in the same game, and that might be a key reason for Solskjaer's switch to a back three. Arsenal have had a spare man to help deal with Rashford and Lukaku, but Lindelof and Smalling had their hands full with Lacazette and Aubameyang. Dropping Young in gives them a little more protection.
17:08
37 minutes – yellow card
Sokratis shown a yellow for a lunge on Pogba.
1-017:07
35 minutes
Nice play between Pogba and Rashford who plays in Lukaku, shows good strength to hold off Monreal but Leno is down to save the Belgian's shot, came back to Lukaku who tried to find the waiting Dalot and Fred but couldn't quite manage it.
1-017:05
33 minutes
Free kick to Arsenal near the half way line as Matic brings down Maitland-Niles, ball towards the area and Young denies Lacazette who shoots from the edge of the area.
1-017:04SAMUEL LUCKHURST
United's change is a small victory for Emery
United have definitely gone to a back three. Solskjaer was showing three fingers to Pogba and Matic and the message has finally been received. He did say on Friday how difficult Emery's tactics were to guess and the change in formation by United is a minor victory for the Arsenal coach.

17:03
Change of formation for United
Back three for United.17:02
30 minutes
Maitland-Niles fouls Shaw to the left of United's area, free kick given. Shaw takes and it's cleared as far as Dalot on the edge of the area and his right footed shot is way over the bar.
1-017:01
Solskjaer screaming at his players
Something needs to change.17:00
28 minutes
Aubameyang with a great cross in to the area which is tipped away by De Gea as fair as Maitland-Niles and Shaw manages to clear for a corner.
Foul given for a push in the back from Sokratis.
1-016:59
27 minutes
Lukaku with a ball over the top for Rashford who is tackled from behind to deny the chance, discussion between the United pair followed.
1-016:57
25 minutes
It's really windy at The Emirates so Pogba's just tried his luck from range with an audacious effort which was no problem for Leno.
1-016:55
23 minutes
Lacazette causing Lindelof big problems, Smalling deflects his effort out for a corner. Which is taken and then held by De Gea, United had it on the counter but given away cheaply by Fred.
1-016:54
22 minutes
Nice move from United with Fred playing it to Dalot on the right, his cross is headed away as far as Shaw who finds Rashford but it's a poor effort from the England international and out for a goal kick.
1-016:53
21 minutes
Arsenal quick going forward, Ramsey just blazes his effort over the bar from 10 yards out.
1-016:52SAMUEL LUCKHURST
A weird 20 minutes from United
This has been a really weird 20 minutes from United. They have been by far and away the inferior side but have struck the woodwork twice and should have been ahead. Solskjaer applauded Fred's attempt, encouraged no doubt by United's ability to threaten Arsenal without playing at an acceptable level. They are, at least, worrying their hosts and not panicking as much on the ball as they were at 0-0.

16:50
18 minutes
Fred tries his luck from range and it hits the post and out for a goal kick.
1-016:47
15 minutes
Arsenal really on the front foot here, Lacazette the latest to surge in to the area but his cross is held by De Gea. United just haven't got going at all.
1-016:46SAMUEL LUCKHURST
United will rue that early chance Lukaku missed
That is appalling from De Gea. Yes, the ball swerves, but it is not as though the ball has turned like Shane Warne's Ball of the century. There is no excuse for him letting that in. It's an abysmal error and indefensible.
Unfortunately for Lukaku, his tendency for squandering easy and costly chances continues. This is the first time United are trailing away from home under Solskjaer.
16:45TYRONE MARSHALL
An interesting tactical set up from United
Another interesting tactical set-up from Solskjaer, the aim of which is again to get Rashford and Lukaku playing through the centre. Dalot is hugging the right touchline with the two strikers central, but Pogba is getting through a lot of work on the left, drifting from a wing role to central midfield. It's not necessarily a balanced system, which can cause problems, but it might get United's best attacking threats in the right areas.
16:43KEY EVENT
Goal – 11 minutes Xhaka
Arsenal have taken the lead, Xhaka tries his luck from about 25 yards out. David de Gea should have done better.
1-016:41
9 minutes
Corner taken by Xhaka and cleared by Matic.
0-016:40
8 minutes
After all Arsenal's good play it's United with the first good chance, a decent ball in to the area by Shaw and Lukaku's effort is off the bar. Straight back down the other end, Ramsey's shot is deflected out for a corner.
0-016:39SAMUEL LUCKHURST
Bright start from Arsenal
It's been a careless and sluggish five minutes from United. Arsenal are playing exactly how everyone expected and that could be their downfall, given United's propensity for counter-attacking goals. United are a bit off the boil, though, and there have been some lax individual errors.
Carrick has been out to pass on some advice but Solskjaer is still sat down. United could do with the serenity of Carrick's passing; it's been one-way traffic. Now Solskjaer is out and rightly so.16:39
7 minutes
Aubameyang tries his luck from range and it's over the bar, they're finding pockets in behind United's defence and they're going to have to tighten up and push up the pitch.
0-016:36
4 minutes
Arsenal have started the better and Lacazette has jus won their first corner of the game, Xhaka whips it up but it's cleared.
0-016:35SAMUEL LUCKHURST
United formation
Fred is playing on the right of the midfield three, whereas against Palace last week he was on the left and Pogba was on the right. The Brazilian did not justify that accommodation at Selhurst and they switched during that game.
Otherwise, United are lining up as expected in the 4-3-3, although Pogba has already pulled wide left already, as if they could switch to 4-4-2 in certain situations.
16:34
2 minutes
Close for Arsenal, a nice ball in from the left from Kolasinac and it just misses Lacazette who was waiting for it in the area and whistles past the post.
0-016:31
Kick off
United get the game underway, they're looking to make it a very impressive 10 successive away wins.
0-016:25
United fans sending their best wishes to the fan injured in Paris
A nice touch.View image on Twitter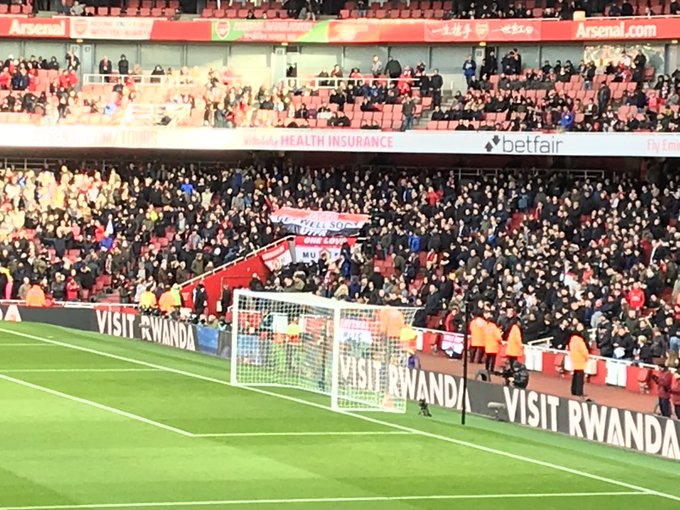 Samuel Luckhurst✔@samuelluckhurst
United fans have unfurled a banner sending their best wishes to the fan who was stabbed in Paris #mufc2857:24 PM – Mar 10, 201956 people are talking about thisTwitter Ads info and privacy16:23SAMUEL LUCKHURST
Team spirit is high
Andreas Pereira has just beaten Lee Grant again in practice and made a 'mwah' gesture to Fred, who mimicked him. There's a good rapport between those two for obvious reasons and the harmony is still high, despite Pereira's predictable demotion for today's game.

16:17
Fans excited to see Dalot
He's impressed in the last three games.
Manchester United✔@ManUtd · 3h

Back in @PremierLeague action

Here's your #MUFC side for #ARSMUN…Follow the match in our Official Appwww.manutd.com
Man United Source@1ManUnitedNews

Dalot masterclass incoming 1186:41 PM – Mar 10, 2019Twitter Ads info and privacySee Man United Source's other Tweets16:10
Away fans in fine voice already
Sure to be another lively away end.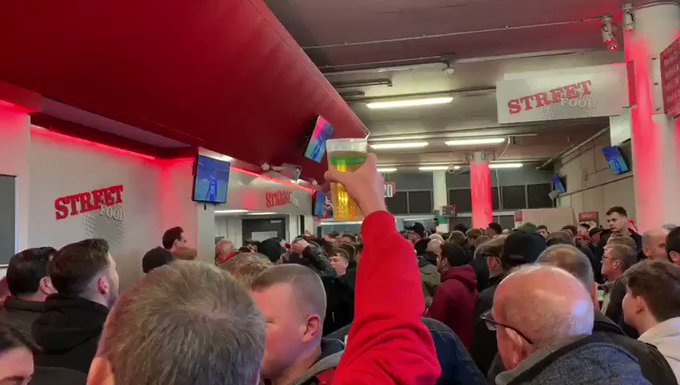 Ole's at the wheel 8227:09 PM – Mar 10, 2019141 people are talking about thisTwitter Ads info and privacy16:08
Solskjaer pre-match chat
Here's what he has said to Sky Sports:
How difficult to pick the team?
We had to find a balance, of course we had Paul being available again, that's a given a no-brainer N been training well for last few days so him and D staring again he did well when he came on, so we have some fresh legs out there
On Fred.
He was fantastic over there you can see after 30 seconds he gets up to Verratti, or whoever it was, and wins the ball for us, never a foul, and he just grew in confidence after that and I think he will show that again.
How much are you getting by on adrenaline?
It's confidence, it's energy enthusiasm, adrenaline too of course because when you win games you want to keep playing and it's been going well for us, we're catching teams up and now we're in with a chance for third.
FA Cup win a blueprint?
It was a blueprint for any MU performance really, defend well, counter attack well, and take your chances you have to have players with quality that will take care of those chances, that will be the same today, we're not going to get loads and loads of chances, Arsenal are a very good side that we really respect, we know we have to put a proper United performance in again.
16:01SAMUEL LUCKHURST
The stars are continuing to align for Solskjaer
That Chelsea result is still undeniably positive for United – and should also reinforce their focus ahead of an unenviable FA Cup tie at Wolves next week. Chelsea's game in hand is at Everton next week, while they still have to go to United and Liverpool as well. It will be immensely pleasing for United if they win today and box off the league for three weeks.
The stars continue to align for Solskjaer, though sometimes things can be going too well. Before the PSG first leg, the French side had just lost at Lyon and were without Cavani and Neymar.
15:58
Emery explains his team selection
Here's what the Arsenal boss has said to Sky Sports:
First, I am going to say to them to defend, it's not only about attacking. We need to be balanced but we decided to play with all three. Above all, in our line-ups it 's about being balanced and being strong in attack and defence.
"Each match we are choosing the best situation for us tactically with the players. We need all of them, the first 11 is very important but also the bench, we need them to help us.
"Over 90 minutes against a team having their best moment of the season they have very good organisation, but with our supporters at home, we can take the best performance for us to fight against them."
15:57SAMUEL LUCKHURST
Fred will have to show similar steel to Wednesday night
Fred started against Tottenham in August but that is his only appearance against a big-hitter, at home or abroad. He deserves to keep his place after that Wednesday night performance and he is going to have to show similar steel against the combative duo of Ramsey and Xhaka as he did against Juan Bernat in added time in Paris.
Fred was the midfielder Solskjaer lauded more out of him and McTominay. The United coach hailed the PSG game as Fred's 'breakthrough', which all but confirmed he would start today.
15:56
Full time in the Chelsea game
They've been held to a 1-1 draw which means even if United lose they won't drop below Chelsea in the table.
15:55TYRONE MARSHALL
Risky selection from Emery
It looks a risky selection in midfield from Unai Emery, with Granit Xhaka having an awful lot of responsibility with Aaron Ramsey and Mesut Ozil in front of him. United have thrived on the counter attack here in recent seasons and they could get joy that way again, with Xhaka not always the most disciplined of defensive midfielders. If he's left on his own then United's midfield runners could cause all sorts of problems.
15:54SAMUEL LUCKHURST
Emery's made a key selection with his bench
The key selection Emery has made is maybe the one on the bench. Shkodran Mustafi came on in the Cup game to get bullied by Lukaku, who bossed him in United's league win here last season. Monreal will play on the left of a back three with Sokratis and Koscielny, with Maitland-Niles and Kolasinac the wing-backs. It is a very attack-minded Arsenal approach, but that is really the only way they know how to play.

15:53
Chelsea equalise
Hazard's just scored a 91st minute equaliser for Chelsea, there's still three minutes left too.15:50
Sky suggesting a different role to right wing for Dalot
Sky Sports are reporting Dalot will play at right back:

It looks like Ashley Youngwill play off of Romelu Lukaku a United line-up featuring three changes from last weekend, with Diogo Dalot returning taking his normal right-back spot; perhaps he'll be doing a job on Pierre-Emerick Aubameyang given his defensive abilities too. We'll find out.
Seems unlikely to us, we reckon it will be Dalot playing on the right wing as he did against Crystal Palace and against Southampton and PSG when he came off the bench, but time will tell.
15:47SAMUEL LUCKHURST
McTominay misses out
The McTominay call is the clichéd harsh but fair. Matic is the sole specialist defensive midfielder in this United squad and is a veteran of Arsenal fixtures home and away with United and Chelsea. He has become indispensable again under Solskjaer, who must know just how fit he is. Time will tell if there was any element of risk against an aggressive Arsenal axis of Xhaka and Ramsey.

15:45
Solskjaer on his team
Here's what Solskjaer has told MUTV about his team selection:
Paul has been fantastic ever since he has played in that position and Nemanja's experience is important for us, he has been working really hard since his injury and he wanted to come to Paris but we there was no way I was going to take that risk.
Energy levels…
Yeah, no magic formula in football apart from you just stick together as team, work hard for each other, work as a team react to whatever happens in the game, we want the first goal, same team spirit we have shown the last few months.
What sort of game are you expecting?
Expect an Arsenal team that want to beat us, they need to beat us to go past us in the league, we are still confident away from home, we have pace on the counter attack we want more composure on the ball than we had against PSG but then again they were a good team, these are a good team, so we know we're going to have to perform well to get the result here.
15:42
Arsenal team
Five changes for Arsenal.





#ARSMUN TEAM NEWS

changes to Thursday's #UEL lineup…
Leno, Maitland-Niles, Kolasinac, Ramsey, Lacazette
Cech, Mustafi, Torreira, Iwobi, Mkhitaryan8,6776:30 PM – Mar 10, 2019Twitter Ads info and privacyFollow our live coverage of #ARSMUNhttps://www.arsenal.com/5,732 people are talking about this15:39TYRONE MARSHALL
A big afternoon for Fred
A big moment for Fred today. His performance in Paris in midweek was his best in a United shirt and he's been rewarded for that by being the only member of United's midfield on Wednesday night to keep his place in the side, with Matic and Pogba returning.
15:37SAMUEL LUCKHURST
A popular selection from Solskjaer
Suspect that United team will be met with approval by supporters, despite the absence of Martial. He could be a useful impact sub at The Emirates again. A draw would be an acceptable result here today and United do not look as attack-minded as they were here in the FA Cup tie, when Solskjaer made a couple of quirky selections by starting Lukaku and Sanchez. The major inclusion is Pogba, of course.
15:30SAMUEL LUCKHURST
Dalot deserves his place in the starting XI
Diogo Dalot is starting for United. The probability is he will be playing ahead of Ashley Young, just like he did as a substitute against Southampton and Paris Saint-Germain. His selection is the least Dalot deserves after his recent performances. He was also decent as a starter against Crystal Palace.

15:27KEY EVENT
Manchester United team news
De Gea, Young, Smalling, Lindelof, Shaw, Dalot, Fred, Matic, Pogba, Rashford, Lukaku
Subs: Romero, Bailly, Rojo, McTominay, Pereira, Martial, Greenwood
15:17
Wolves have scored
Chelsea are behind at home against Wolves thanks to a goal from Jimenez.
If Chelsea do lose they can't go above United today, a reminder that if they won and United lost they could leapfrog United.15:16
Last time out against Arsenal
Can United win again?
15:01
Fred asked about starting the game
He was impressive against PSG but there's a chance he'll have to settle for a place on the bench this afternoon, he was asked by ManUtd.com how much he wants to start.
"Who wouldn't want to play in a massive game like this? Personally I'd like to be on the pitch doing my best, helping the team and creating passion for the fans. So I've been training hard, doing my best, if I can on the pitch you can on the pitch you can be sure that I'll give my all, and we're looking to win this match so we can always be in the top four."
14:58TYRONE MARSHALL
Arsenal wary of Pogba's threat
Lucas Torreira is suspended for Arsenal today but he's still done the interview in the match programme and he's been talking about his admiration for Paul Pogba.
The two went head-to-head in the World Cup this summer when France met Uruguay in the quarter-finals, while Torreira is also friends with another Pogba.
"They have great players and yes one of them is Paul Pogba who is a World Cup winner, he said. "We played them in the last World Cup and regrettably we lost 2-0 to them, but he's a top player.
"I played with his brother Mathias at Pescara, he is a good friend. Paul Pogba has demonstrated that he is at a great level at United and has been performing very well recently. He is a player that you love to watch."
14:53SAMUEL LUCKHURST
United need to be wary of a familiar face
Arsenal have not lose a Premier League home game since the first weekend of the season against City, which made United's triumph here in January all the more impressive. Despite that defeat at Rennes, Arsenal have been in decent domestic form and were unfortunate not to beat Tottenham at Wembley last week, when Henrikh Mkhitaryan performed against an elite side.
Mkhitaryan's camp were aggrieved he was beaten to the Europa League player of the season award for 2016-17 and champion his statistics. There are few finer stat-padding players than Mkhitaryan, whose numbers masked anonymous periods at United.
14:41
Smalling sends Arsenal warning ahead of kick off
Chris Smalling has spoken to ManUtd.com about why the team is confident they can get a result at The Emirates this afternoon.
Yeah, I think we are [confident]," he said.
"We have got that belief. Especially in the last five or six weeks from the teams we have come up against, whether it is Chelsea, Tottenham or PSG, all sorts, we know that we can go to teams and we can hurt teams. That belief could not be any higher at the moment."
14:32SAMUEL LUCKHURST
Solskjaer has two big decisions to make this afternoon
The two interesting calls today are whether Matic comes into the midfield and who supplements Lukaku and Rashford in the United attack. Dalot should have started in midweek and has to be worthy of consideration today, despite Martial's return. Solskjaer rhapsodised about McTominay and Fred not just after the PSG game but again on Friday. It could also be a big ask for Matic to regain rhythm against a high-tempo team like Arsenal.

14:26TYRONE MARSHALL
Solskjaer's got a selection dilemma on his hands
Nemanja Matic is back in the United squad today but they may be little pressure to play him from the start given the emergence of Scott McTominay in recent games. He's been outstanding anchoring United's midfield and has proved himself a more than capable stand-in for Matic. A few weeks ago we feared for United's midfield in the absence of Matic and Ander Herrera, but McTominay, Pereira and Fred have taken their chance to impress.
14:23
Half and half scarf anyone?
Not for us, thanks!View image on Twitter


Half-and-half scarves #afc #mufc #ARSMUN #justwrong3445:22 PM – Mar 10, 2019191 people are talking about thisTwitter Ads info and privacy14:13
Other Premier League results
Liverpool just beat Burnley 4-2 at home to close the gap at the top back to one point. Chelsea have just kicked off against Wolves, if Sarri's side win they would go one point ahead of United, for now.
14:04
Full time for United Women
Another emphatic victory for Casey Stoney's side.View image on Twitter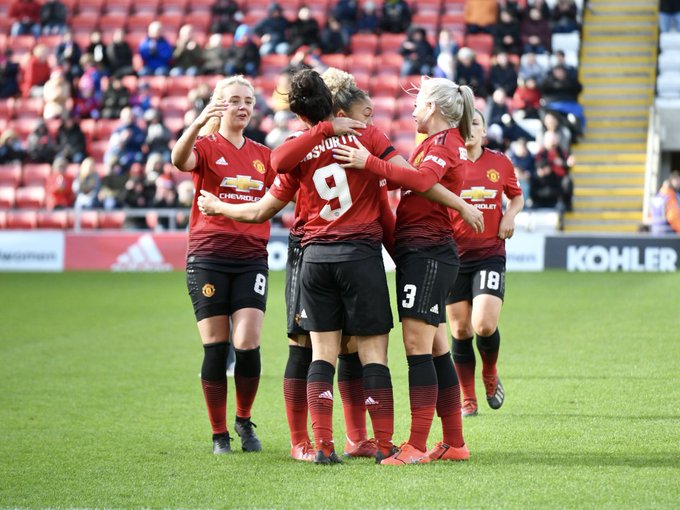 Manchester United Women✔@ManUtdWomen


FT: #MUWomen 6 Leicester City 1

United get the win after goals from @jessSigsworth5 (2), @mollie_green97, @laurenjamess22, @ellatoone99 and @KirstyHanson3. Leicester scored but that proved to be little more than a consolation as we pick up where we left off!1,1855:02 PM – Mar 10, 2019360 people are talking about thisTwitter Ads info and privacy14:03TYRONE MARSHALL
United need to put Wednesday's win behind them
Perhaps the biggest test facing United today is how quickly they've managed to come down the high of Paris on Wednesday night. It was an evening that took an awful lot of them physically and emotionally. Solskjaer said the running stats were as high as they've been in his time in charge and the way the game ended and the celebrations that followed were intense. But now it's time to get down to business again, this is a huge game in the race for the top four and United's players will need to show they've put their Paris heroics behind them quickly.
13:59
Solskjaer's message to the United youngsters
Greenwood and Chong have travelled with the first team squad again and Solskjaer had some advice for the youngsters looking to breakthrough on a permanent basis and used Giggs and Beckham as an example.
"Giggsy and Becks used to do the graveyard shift, running up and down that line. "They didn't just stand there waiting for the ball to deliver, they worked their socks off," Solskjaer said.
"When you play for Manchester United, you can't just think 'I'm talented, I'll just do my magic when I get the ball'. That's not enough – and it's not going to be good enough if we want to challenge the top two."
13:48SAMUEL LUCKHURST
Emery is wary of United's threat
Emery says in the programme:
I think our visitors have big confidence from their recent matches, but also we can help our preparation with a big determination, because we lost against them in the FA Cup, even though we worked very well and we created good chances against them. In that game, we had some defensive injuries, which made it difficult to keep our rhythm and meant we had to make early changes as well. They were very clinical and in the moments when we attacked we got into the box and couldn't produce the last action to score. We deserved more but we played against Manchester United, who were on a good run and had a lot of players to make the difference, like Rashford and Martial.
After this match we could learn, because United are effective in the transition as they have good, fast players. We could be faced with similar issues today.
13:38
Programme cover
A retro feel to this one.View image on Twitter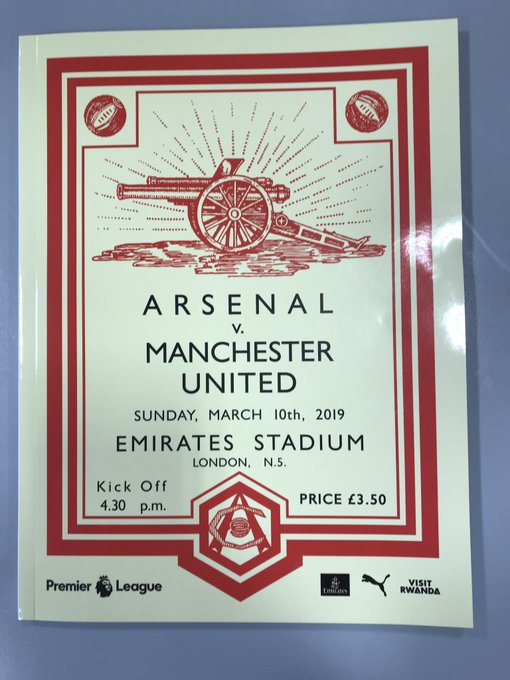 Samuel Luckhurst✔@samuelluckhurst
Elegant programme cover at The Arsenal #mufc2154:33 PM – Mar 10, 201944 people are talking about thisTwitter Ads info and privacy13:38SAMUEL LUCKHURST
United were less than impressed with Arsenal's defence on their last trip to the Emirates
A description for the Arsenal defence that emerged from the United dressing room following the FA Cup win was simply 's**t'. United players were struck by how similarly Arsenal played against them to how they used to set up under Arsene Wenger. Arsenal's only domestic loss since that January reverse was at City and they may feel they are overdue a performance and a win against United, who rode their luck at the Emirates last season.

13:27
Follow us on Instagram
If you don't follow us on Instagram yet then you're missing out.
Head over for pictures from the ground.
13:18SAMUEL LUCKHURST
United set for a tougher task than January at the Emirates
Wednesday was such a big game for United a regional London newspaper sent two correspondents to the game, so you can imagine how many they will have for what felt, certainly at the start of the week, like the bigger game for United.
You cannot imagine Arsenal playing as obligingly as they did in the Cup game in January and their defeat at Rennes on Thursday does not feel particularly relevant going into today's game. If United get a draw, it will be a decent result but they are undeniably going to go for the win in what is their second favourite city.
13:14
Solskjaer thinks United have an advantage over Arsenal today
Solskjaer has spoken about why United could have an advantage over their rivals today.
"We're alright," the Norwegian coach told ManUtd.com.
"Arsenal played 24 hours later than us and of course it will be tougher for them, so we'll be ready for Sunday definitely.
"Games always matter, and I think always play on people's minds. We'll go in confident with a great boost. Of course, they will be wanting to get revenge (after the defeat to Rennes) and get back to winning ways, because they've done really well lately, Arsenal.
"I saw the game against Tottenham, which of course they could have won, with the penalty in injury time.
"Against them last time it was one of the highest outputs we've ever had physically, so we need to repeat that."13:01
United fans want Martial to start
He came off the bench to score against Arsenal in the FA Cup in January and fans want to him straight back in the starting XI after recovering from injury.

Should Anthony Martial start for Manchester United against Arsenal tomorrow?863:25 PM – Mar 9, 2019Twitter Ads info and privacy69%Yes31%No2,852 votes•Final results23 people are talking about this12:39
Big day in the race for top four
After Tottenham's defeat yesterday United could end the day level of points if they win this afternoon at the Emirates. A win by six goals or more (!!) would see them secure third place while an Arsenal win would see Solskjaer's side drop down to fifth.
A big afternoon in the race for top four.
12:30KEY EVENT
Manchester United squad to face Arsenal
Anthony Martial and Nemanja Matic are back in today's match day squad having recovered from injury.
Read the full travelling squad here.
12:29
Arsenal vs Manchester United
Good afternoon and welcome to today's match blog.
Here's hoping for a result and a game as exciting as Wednesday night! We'll have all the team news and match action for you right here.